One of the reasons I set up Music for the Head and Heart was that I kept coming across many artists who all commented on the challenge to find listening appreciative audiences. In an era of 24 hour TV and the internet, people are spoiled for choice and less people seem to go out to see live music, unless it's a very well known artist (and usually a massive impersonal stadium gig) or a local open mic opportunity. Both of course have their place, but the middle ground seems to be increasingly squeezed and this in my view will ultimately contribute to the demise of a lot of great music.
Many unsigned artists will have gigs attended by fellow musicians and friends, but there's a limited connection to a wider audience. Promoters understandably want to ensure they get a rerun on artist investments, so often they are timid in taking a chance on unknown acts. This results in limited choice and in recent times I have seen many performers return to paid full time non musical jobs as they can't scratch a living from music alone. I say "scratch a living" because many artists are just getting by and even seasoned performers find it hard to maintain predictable income streams. I don't see this trend changing anytime soon either, so something new is in my view desperately needed.
Gathering the maverick hordes
Many of the artists I love to listen to are not generally well known to the wider public. This can be for a variety of different reasons. Some artists can be brilliant entertainers, but clueless about how to market themselves. Often they won't have the very basics in place to be taken seriously as performers. At one extreme performers can adopt a DIY approach which can be great, but has limited impact as they simply can't afford to invest in good enough quality of audio and video. At the other extreme artists can how for the dream opportunity and have been sold a dream by PR companies that they can "make it" if they only have enough Instagram and FB followers. In other words, such companies are looking for "a complete package" often according to current musical trends. Few who get signed to music deals have long term careers and can become quite disillusioned discovering that "the music business" is like any other business where those in control measure risk v reward.
Music for the Head and Heart promotes the love of music irrespective of the style and history of the artist. Some on the platform are highly successful commercially and others are relatively unknown to the wider public. One thing they all have in common is a love of music and the aspiration to bring their creative voice to a wider public. I often talk about gathering "the maverick hordes" of artists that don't fit the standard corporate expectational sets. By bringing many such artists together on one platform the public can hear about the artist's stories in the interviews and hear them play.
Live Showcases, it's a "Showcase" NOT "just another "gig"
One of the four artists I chose for the Music for Head and Heart launch was Miranda Arieh. She is seriously talented and blew me away when I interviewed her. She is also very astute and commented after the launch "Nick these live events are NOT simply gigs, but SHOWS"
The headliner for the launch was Captain of the Lost Waves, who also is both an exceptional performer as well as an excellent songwriter and musician. Many of his tracks including "Drifting" are classic pop songs that in my view should be as well known as Crowded House and other such great pop performers. This is music at its best with strong melodies, great lyrics and great performances. On the launch The Captain ditched two songs in his set to do an 11-minute duo with Miranda Arieh, a perfect example of artist collaboration and one of the highlights of the evening.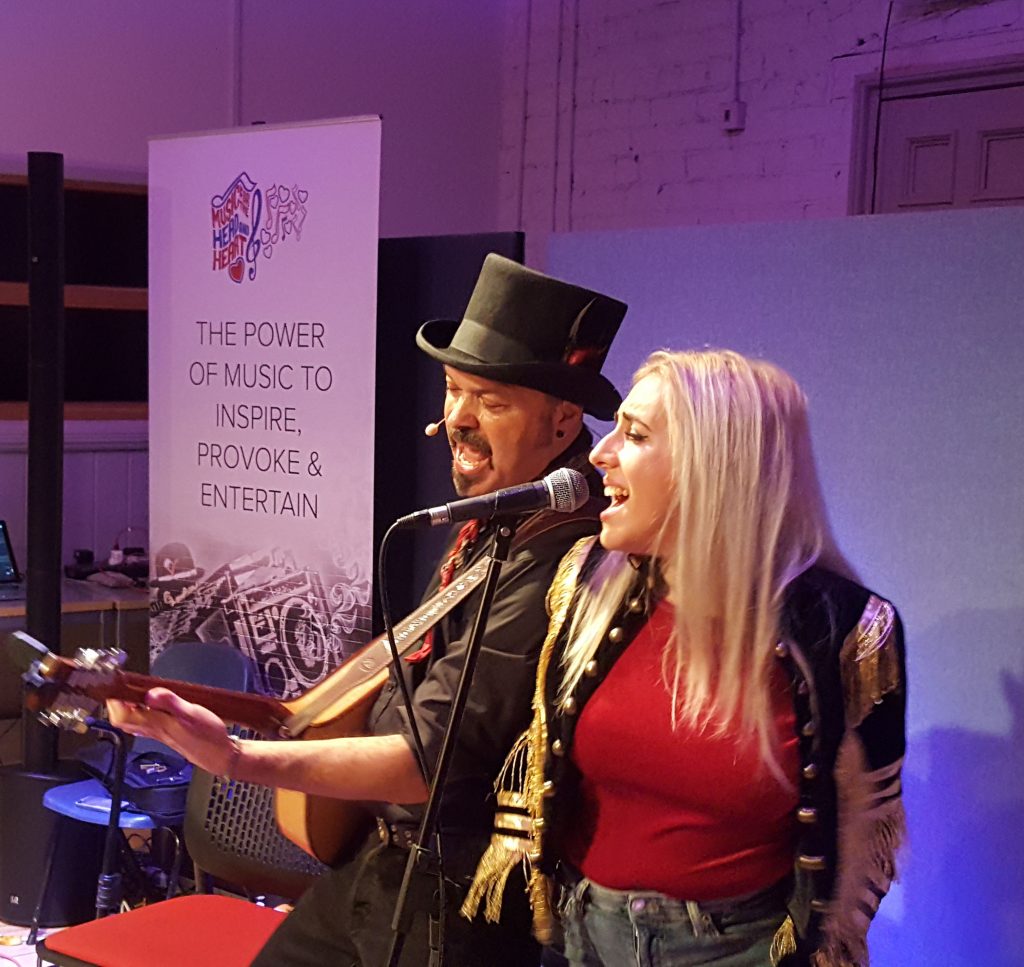 Conclusion
I'm convinced that collaboration and cooperation is the best way forward in this musical era. Artists maintain their own identities and commercial viability, but the connectivity between artists creates more momentum and a wider commercial reach. My job as the promoter for the platform is to make sure we attract fellow music lovers and that's a stack of time and energy, but so worthwhile. Special thanks to established artists like Martin Simpson and Jon Gomm (interview coming soon) who also have been kind enough to give their time for interviews.
Regards
Nick Cody